For the mobile version of agilitycourses.com I wanted to follow the approach Google appears to be using on some of its sites:
If the user views agilitycourses.com from a desktop browser they should see the standard/desktop version of the site.
If the user views agilitycourses.com from …
I'm adding an "m" subdomain to agilitycourses.com to provide a better mobile browsing experience. I'm using the referrer string in Django middleware (currently using minidetector) to detect whether the client is mobile and redirect them to the mobile site. Since it is likely that some folks will/won't get …
I couldn't find any documentation that covered all the pieces for configuring my latest Django site so I hope this helps someone else out.
I had used mod_wsgi under Apache for my other Django sites. But now I'm using different python versions for the sites (until if/when I update …
I've always preferred maintainable code over clever code:
Debugging is twice as hard as writing the code in the first place. Therefore, if you write the code as cleverly as possible, you are, by definition, not smart enough to debug it. - Brian W. Kernighan
Kernighan had it right all those …
Googility.com is my first Django website and under the covers the oldest code looked like it. I had originally written it with the sole intent of allowing people to enter dog agility businesses and websites into a database that I could use to create a Dog Agility Google Custom …
I use Haystack and the Python Whoosh project to provide search over ~3400 articles in my Googility.com database. I had originally implemented the search in the "simplest way that works". I was making some other enhancement to Googility and noticed the search result page had two undesirable behaviors:
The …
I was looking at the google search results for my Googility web site and noticed that the descriptions shown underneath the title often contained text from my navigation links instead of content from the body of the page: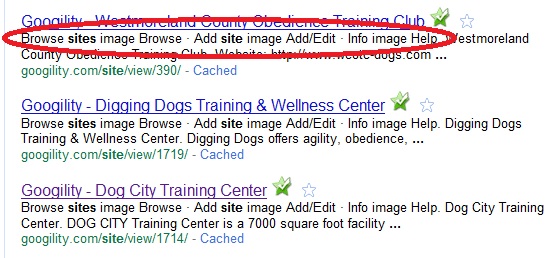 I did some searching and found the Google Webmaster blog post about …
When I'm making fiddly changes to a web page I like to tweak the CSS using the Firefox Firebug plugin. It has the advantage of letting you try changes quickly and see the effect. The downside has always been that you had to then change the source CSS file to …
I have been using the free website thumbnail service from Shrink The Web on my dog agility search website Googility since I launched it. It is quick and easy to use and it adds a lot to the look of the pages.
I had created a simple Django template tag …
Ran into an interesting problem at work this past week that had a simple and pleasing resolution. We have an in house developed JavaScript grid on some of our pages and when users entered some text strings we'd generate invalid JSON payloads that would give the user an error page …